While you're driving, your dashboard is almost constantly in your line of vision. This means you can see every small imperfection, piece of dust, scratch, scrape, etc.
If you're anything like we are, then you know how important it is to have a clean dashboard. If this is the case, you're probably here searching for the best dashboard cleaner that'll keep it free from germs and bacteria.
If you've been reading companies' descriptions of their products, it can be overwhelming and all the information being thrown at you can be confusing. Their descriptions are much like robots would be if they were the ones writing them. This is why we've done our own investigating.
We found the 303 Aerospace Protectant Spray to be the best because not only will it protect your dashboard from harmful UV rays that destroy interiors, but it is multi-use as well.
After thoroughly researching dozens of products, we've come up with this handy guide for you. It'll aid you in your search for the best dashboard cleaner for your vehicle.
The list below contains the top five dashboard cleaners that we thought would suit everybody. We spent a lot of time researching these products so we could give you an idea of what the best dashboard cleaners are on the market today.
Best Dashboard Cleaner
| | | |
| --- | --- | --- |
| Product | Application | Non-Toxic |
| 303 Aerospace | Spray | Yes |
| Chemical Guys | Spray | No |
| Meguiar's | Spray | No |
| CarGuys | Spray | Yes |
| Turtle Wax | Aerosol | Yes |
The 303 Aerospace Protectant Spray is our top pick because it's specially designed to protect your dashboard from UV rays that may destroy it.
This car interior spray was originally manufactured for aerospace and aviation to protect the rubber and plastic materials from UV rays and Ozone damage.
This should tell you a little something about its extreme sun-protection power. Its ultraviolet protection properties can help extend the life of your dashboard.
In addition to protecting your dash, the 303 Aerospace Protectant Spray helps revive the color of your dash. It doesn't leave an oily residue and will leave a matte finish to the surfaces where it has been applied.
This cleaner works with multiple materials such as plastic, PVC, vinyl, and fiberglass. It can also be used on leather and paint because it's water-based and won't cause damage.
This spray is free of silicone oils and petroleum distillates and contains non-toxic ingredients, so it's very safe to use.
It's recommended that you use a cloth to rub the solution on since the product can dry out on its own. After you rub it on, buff it out to ensure its longevity. It should be used once every 30-40 days for optimal protection.
This is the best multi-surface dashboard cleaner because it works on various types of surfaces and it's ideal for touch-ups. The Chemical Guys Innerclean Quick Cleaner is a unique formula that contains conditioner.
This conditioner will help refresh your dry and neglected surfaces to give them a brand new look. It can be used to wipe away dirt, oil, and dust from almost any interior material including your dashboard.
This product does a great job of protecting your dashboard from harmful UV rays that can destroy it. It's infused with sun blockers and UV rejectors that help keep the dashboard from losing its color or bursting.
Along with being protective, it's affordable and easy to use. You can spray it onto a microfiber towel and wipe away any grime that has accumulated on your dash.
It's a non-residue formula with dust-repelling technology that will help keep your dash cleaner for longer and won't leave behind a greasy film.
Meguiar's Ultimate Interior Detailer is our pick for best value because, for the price, it offers serious deep cleaning abilities.
Meguiar's Ultimate Interior Detailer is a great product if you're looking for something that will give your dash a good deep clean. Not only does it clean your dash, but it protects it from UV rays. Its formula contains sun-blocking agents that will protect your dash from cracking and will preserve its coloring.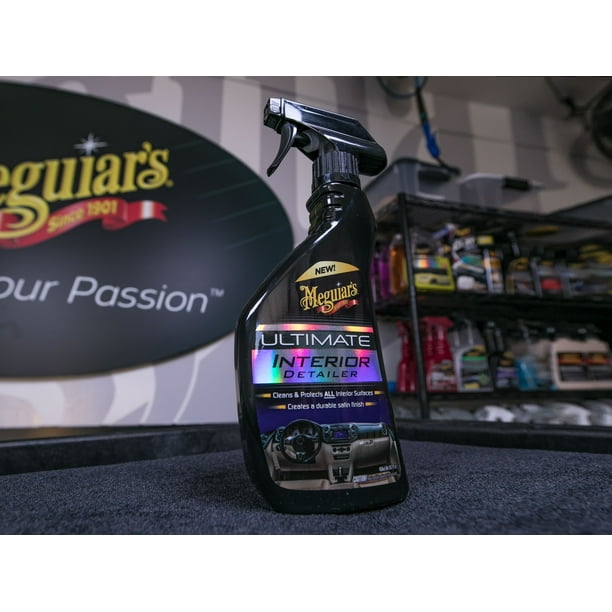 This is also a multi-purpose cleaning product. It's safe to use on all interior surfaces including steering wheels, gearsticks, door panels, and dashboards. You can even use it to clean your LCD or navigation screen.
It will leave behind a smooth, satin finish. If you want to control the amount of shine it leaves, choose different types of towels such as cotton for shine or microfiber for gloss.
It's very simple to use as well. Just shake the bottle for a minute or two and spray it directly onto the surface of your dash.
You can also apply it to a towel first and rub it on the surface. If it hasn't been cleaned in a while, you may have to use the product multiple times for a nice, polished look. 
CarGuys Super Cleaner had some amazing reviews. It's an easy-to-use cleaner that can be used on various surfaces. It doesn't leave a greasy residue as some cleaners do.
However, you should wear gloves when working with this chemical to protect your hands. It has a professional-grade sprayer with a fully adjustable nozzle.
One of the nice things about this cleaner is that it works on multiple surfaces. You can use it to clean your instrument panel, dashboard, upholstery, leather, rubber, metals, wood trim, and fabric.
It uses the latest nanotechnology to allow the cleaner to remove grime and dirt on a molecular level.
In addition to all that, the cleaning solution is a polymer formula that is water-based and non-toxic. The scent is mild and you won't need to wear a mask while using it. 
Turtle Wax products have been around for many years. Their products are among some of the best. Their Dash & Glass Foaming Cleaner is no different.
It's a fantastic one-step cleaning solution for your vehicle. The one feature that makes this product stand out from the rest is that it's an aerosol spray and is in the form of foam.
Foam isn't one of the most common dashboard cleaners and there's a misconception that it's messy, but this isn't true.
Turtle Wax uses special technology that keeps the foam from moving around in places other than where you sprayed it. It emits the right amount of foam so you don't have to worry about wasting any.
This cleaner doesn't leave streaks or greasy residue on your dashboard. It can be used on different surfaces and you can even use it to clean windows and tech screens. Once you have sprayed the foam, you should rub it in with a cloth until it's completely dry, leaving behind no messes. 
The first item on our list is a relatively new entrant in the market that is also one of the priciest you may ever encounter. In our review, we shall show you why we believe it is worth every cent it costs.
First, it offers your vehicle's interior surfaces UV protection to slow down the aging process. Then, it is an all-purpose cleaner that you can use on the seats, dashboard, upholstery, and vinyl.
We also liked how easy it is to use this cleaner, whereby you only have to spray it on a piece of microfiber cloth and wipe the surface clean.
If the first product puts you off due to its high price, here is a budget-friendly option that you can consider acquiring.
It is a versatile and money-saving product that you can use on most interior car surfaces, including the dashboard, vinyl, carpet, wood trim, and leather. This means that you do not need different products for different surfaces.
Since the cleaner is formulated to offer UV protection, it will protect the interior surfaces in addition to keeping them clean.
We also liked that it does not leave any oily residue behind after cleaning. However, we did not find it effective for the tough stains.
Next up is a premium choice that is popular for the natural low-gloss finish and residue-free results that it delivers on your vehicle's interior.
An outstanding aspect of this formula is the 100% formulation from natural ingredients to make it free from potentially toxic elements and fumes.
You may also appreciate that you can use the cleaner on different interior surfaces such as leather, vinyl upholstery, and plastic parts.
Lastly, it comes with a 60-day money-back guarantee. As expected, this product is quite expensive.
Are you looking for a cleaner for your vehicle's interior that is both safe and easy to use? We suggest that you look at this cleaner by Meguiar, although we should warn you early enough of the strong chemical smell that it gives out.
Other than that, the formula is very easy to use, whereby you simply spray and wipe it away to remain with a pleasant non-greasy finish.
Next, the cleaner is safe for use on all surfaces, including the steering wheels, door panels, dashboards, and stereos. Lastly, the product is also quite affordable.
Made in the USA, this product is just for you if you believe that a pricey unit is the best option. The formula does an excellent job of blocking off UV rays which tend to accelerate the aging process.
Another impressive aspect of this product is that it is non-toxic and water-based to ensure that it does not leave any lasting damage on any material that it touches.
It is also worth mentioning that this spray is safe to clean different surfaces, including vinyl, leather, rubber, gel coat, and plastic.
The 160z bottle with trigger sprayer only serves to make the whole cleaning operation easier.
Closing down our list is a formula that will enable you to kill two birds with one stone. This is because, besides the cleaning aspect, the product also has a UV-protectant.
So, when you apply it on the surface, you will be cleaning it and also ensuring that the dashboard does not fade or crack when exposed to the UV rays.
We appreciate the easy wipe on/off of the cleaner that makes the entire cleaning process relatively easy.
How about the anti-static technology that will ensure your car's dash does not attract dust easily, and this will reduce the frequency of cleaning your vehicle?
The only issue we had was the sprayer nozzle which seemed to be of poor quality.
How To Choose The Best Dashboard Cleaner
When choosing the best dashboard cleaner for your vehicle, there are a couple of factors you should look into in order to achieve the best results.
Some textures are better to work with than others and some dashboard cleaners are better for certain surfaces than others. Here are some of the considerations you should make.
Cleaning Efficiency
The efficiency of the cleaner is one of the top factors to look into. You will want something that can quickly get rid of dirt and grime from your dashboard.
Check the reviews of the product, which we've already done, and check to see how effective it actually is. 
UV Protection
This isn't necessary for dashboard cleaners because a separate product can be purchased for this, but this is a bonus.
There are several cleaning products above that protect your dashboard and interior from sun damage. It can definitely extend the life of your dashboard and other interior parts.
Dust Repellency
Some cleaners contain anti-static ingredients which will reduce the number of electrostatic charges that attract dirt and dust. Because of this, your dashboard will remain cleaner for a longer period of time.
Safe Ingredients
Many of the dashboard cleaners on our list are made with non-toxic ingredients. This doesn't mean that the level of effectiveness is sacrificed though.
These dashboard cleaners won't harm your skin in any way unless you're sensitive to a certain ingredient. Some of them may actually advise you to wear gloves while working with it just in case.
Multi-Use
Even though you may only need a dashboard cleaner, it won't do any harm to have a multi-use product that can clean steering wheels, door panels, seats, and other surfaces in your car.
The upside to having a multipurpose cleaner is that you'll save money and have a great cleaning solution for various materials.
How To Effectively Clean Your Dashboard
No matter which product you choose, it won't do you much good if you use it improperly. Keeping this in mind, here are the steps you should take when using a dashboard cleaner properly.
Step 1: Remove Your Front Seats
This isn't a mandatory step to take, but it will certainly help you reach places easier. The more room you have to move around while cleaning, the better off you'll be.
Step 2: Vacuum Your Dash
Before you spray on any dashboard cleaning products, you need to vacuum the dashboard first. This will help remove any debris and large dust particles that may be lingering.
This will also give you a smoother surface to work with. If you have large dirt particles built up on your dash, swirling them around could create microscopic scratches that can harm your dash.
Step 3. Wipe It Down
Using your product of choice, wipe down your dash using a microfiber cloth. Never spray the product directly onto the dashboard because it could get into places it shouldn't be such as electronics.
After it dries, it could even stain the area. Apply a small amount of the cleaner to a cloth and gradually work your way around the dashboard.
Step 4. Get Into The Small Crevices
Once you've wiped down the larger areas, move on to the smaller ones such as air vents, radios, and USB ports.
These can be tricky since they often have small crevices that can be hard to reach. Use a soft paintbrush, toothbrush, or cotton swab and dip it into the solution. You can also use compressed air.
Can You Use Homemade Alternatives?
If you don't want to spend money on cleaning solutions, you can use a homemade remedy with ingredients you may already have.
If you have a cloth, spray bottle, lemon juice, olive oil, water, and vinegar, you can use it as a homemade dashboard cleaner.
The same steps apply to this solution as they do to the others. Mix the lemon juice and olive oil in a bottle and put a small amount of it on a cloth and rub the dashboard with it.
You can also use white vinegar and water as a non-toxic solution that can be used on various materials.
Mix those two ingredients in a spray bottle and apply it to the dashboard. Let it soak for a few minutes and wipe it off with a cloth.
Are dash cleaners effective as the manufacturers claim?
Most of the products we checked out do just enough to deal with dust and small stains. However, most of them seemed ineffective when it comes to tough stains, which may need stronger solutions.
Final Thoughts
Keeping your dashboard clean is important if you want the value of your vehicle to remain ideal.
Not only will a dirt-free dashboard give your car a sleek look, but it will protect it from germs and bacteria. This is why finding the perfect cleaning solution for your particular vehicle is necessary.
You can't make a bad choice when it comes to the cleaners we have on our list. If you don't want to go down the chemical route, try our homemade remedy.
I'm Anthony King, a systems integration, automobile technician & automotive expert who earned his bachelor's and master's in mechanical engineering and an MBA from the University of Michigan, Ann Arbor. I worked on pioneering technologies from the beginning of his career.